Welcome to our learning journey!
The Swiss Agency for Development and Cooperation strengthens its institutional knowledge development through its thematic networks. In August 2017 the two networks on Conflict and Human Rights and on Democratisation, Decentralisation and Local Governance invited their members and interested colleagues to this learning journey. Now we invite you to explore our event page. Read short presentation summaries from the invited experts. Download background documents. Watch the full presentations on each topic. Or download the final workshop report.
Every journey starts with an introduction
Erika Schläppi from Ximpulse GmbH introduces the underlying concepts: accountability and legitimacy. Two key characteristics of independent state institutions. She proposes an accountability map to visualize horizontal, vertical and diagonal forms of accountability:
Oversight institutions are part of the accountability systems of their country. They vary in their focus on transparency and answerability of state authorities, and their relations to other accountability actors (such as the parliament, the judiciary, media, NGOs) may differ.
Watch her full presentation to learn more
Corinne Huser and Nils Rosemann welcome the participants
And now, let's start learning!
Scroll down to learn about one of the 5 workshop topics.
Anti-corruption commissions (ACCs)
How to define ACAs?
Anti-Corruption Agencies (ACA) are public bodies of a permanent nature, with a specific mission to fight corruption and reduce the opportunities for its occurrence, through preventive and/or repressive measures. The ACA's functions depend on their mandate, and typically include: receiving and responding to complaints, monitoring and investigation, prosecution of cases, research, analysis and compliance reviews, public information, education, coordination.
While there are no binding international standards or obligations to create an independent ACA, the Jakarta Statement (singed by heads of anti-corruption agencies in Jakarta in 2012) enumerates some principles for ACAs (Read the document in the document section).
What role do the donors play?
Sofie Schütte from U4 Anti-Corruption Resource Center stresses the importance of the Donors' role: They should start from the actual mandate and capabilities instead from blueprint approaches and predetermined expectations. They should be careful with taking on visible front-line activities, for example major corruption cases, if their structure and processes are dysfunctional. Donors need to analyze the ACAs strength properly. Often donors tend to overload institutionally weak ACAs with specific tasks and provide funding that the institution is not able to absorb.
Learn more about the ACAs, watch Sofie Schütte's presentation
Personal commitment is key
Neten Zangmo talked about her experience as the former head of the Anti-Corruption Commission in Bhutan. For her commitment and personal engagement is key to fight corruption. To help her colleagues to shy away from temptation the commission elaborated "10 commandments" based on its mandate to define its own ethics and approach (find the document in the document list). Success was only possible because there was political willingness to fight corruption, within the ACA and more broadly, in political leadership and the judiciary.
Listen to Neten Zangmo's story from Bhutan
ACA and statebuilding
Sergio Gemperle from Swisspeace in his doctoral research focuses on anti-corruption agencies and statebuilding. What are the effects of anti-corruption institutions on post-conflict state building? He concludes that corruption has a strong delegitimizing effects in developing countries, particularly in regard to fragility, and might be a cause of conflict. But the issue is complex. There are occasions where corruption is used for balancing conflicting interests and thus can prevent conflict. To demonstrate his case, he uses the following matrix: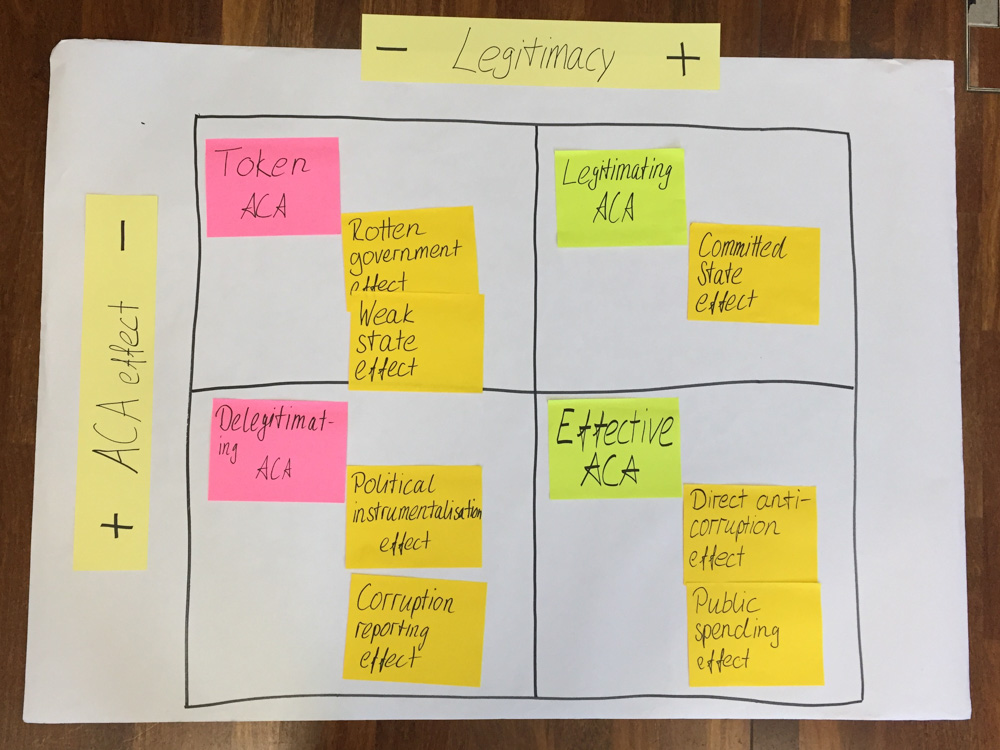 Video documentary on the work of an ACC
This video was shared with the participants prior to the workshop to set the stage. The video has been produced by rappler.com, a social news network where stories inspire community engagement and digitally fueled actions for social change.
Quotes from the day
At the end of each day Erika Schläppi recorded the day in short quotes, for your inspiration:
"Our Anti-Corruption Commission was successful, because our government had the political will to make it successful, and because of the personal commitment of the commissioners: The perception index went down, the very concept of corruption is now publicly known and accepted, and we had some successes in bringing corruption cases to justice."
-/-
"Paying higher salaries to Anti-Corruption Commission staff might attract new people but does not help to fight corruption in the end. How can they be credible in challenging public officials who earn much less? It will attract the wrong people to the Commission – the wives, kids and friends of the powerful elite - , and it is in no way sustainable."
-/-
"I am doubtful about the idea of a new institution: We should address corruption within the system, and avoid establishing a new body. Why should a new institution work more effectively and with integrity, while all other institutions have a culture of nepotism and corruption?" 
-/-
"The untouchable becomes touchable: The Anti-Corruption Commission is a strong signal against the impunity of power holders."
-/-
"The argument about the "gift culture" is tricky. Are you giving a gift just because it is your "culture" or because you expect a favor to be paid back later?"
Supreme audit institutions (SAIs)
What is an SAI?
This animation will introduce you quickly to the role of the supreme audit institutions.
Standards are key
Natalie Bertsch from SECO (Swiss State Secretariat for Economic Affairs) works with SAIs around the world. She stresses the importance of strengthening the system of Public Financial Management (PFM) of partner countries. PFM cycle includes the budget formulation, the budget approval by the Parliament, its execution, and finally its control. To this goal SECO supports the International Organisation of Supreme Audit Institutions in developing the performance measurement framework (PMF). 25 performance indicators are set in the following six domains: independence and legal framework, internal governance and ethics, audit quality and reporting, financial management, assets and support services, human resources and training, communication and stakeholders. These assessments can be used for evidence-based assistance and budget support. To learn more, please visit this web page of the International Standards of Supreme Audit Institutions (ISSAI).
Watch Natalie's full presentation
Natalie concluded with an example from Mozambique where SECO together with the World Bank established the SAI capacity development fund.
Natalie presents SECO's example from Mozambique
In the case of Serbia, Petar Vasilev shares the experience of SDC's support to the SAI that reports to the parliament and supports the parliament in fulfilling its oversight role.
Listen to Petar presenting the example from Serbia
Quotes from day 2
Here a few quotes to bring back your memories from this day:
"Audit institutions are only credible if they are publicly perceived as independent, from government as well as from donors. As a donor you are in a kind of dilemma. You must respect their independence and not interfere, and at the same time you are expecting concrete and specific results in due time."
-/-
"Audit institutions are part of a system and can only be as strong as the weakest part of the public finance management cycle. How much can we expect from them to change the big picture?"
-/-
"By making audit institutions work professionally and effectively, you strengthen the legitimacy and credibility of the institutions that are audited: This was the main rationale for supporting the Supreme audit institution and its auditing of municipalities."
National human rights institutions (NHRIs)
Let's start with a definition of NHRIs
The Paris principles are the reference framework defining performance criteria of NHRIs (you find the principles in our documents section). Based on their constitutions as well as their commitment to the ratified international human rights treaties states have committed to implement human rights in their national systems. However, there is a compliance gap, and many states have no institutional set up for effective implementation, despite of their human rights obligations.
Marie-Louise Johannessen, Danish Institute of Human Rights (DIHR), explaines that while the obligation to implement human rights is with state authorities, NHRIs are the lighthouse to monitor all different stakeholders in the executive, legislative, judicative, and even in society.
Watch Marie-Louise introducing the topic
HRIs can make a difference
Musa Mahmodi, the executive director of the Afghan NHRI, demonstrates that the NHRIs can make a difference, even in a very challenging and violent context. The NHRI started in 2002, from scratch, with no logistics and staff, and in a difficult environment of massive human rights violations. Thanks to the support of donors his institution established itself and made itself accessible to the public. Today, the NHRI has 550 staff, with offices nationwide. The Afghan NHRI has a strong constitutional mandate, with the power to monitor, investigate and receive complaints, and assist victims in legal processes. By presidential decree the mandate is even broader with strong links to the Paris principles.
Still, the NHRI faces huge challenges: war and regular massacres constitute a difficult working environment, and it is very difficult to uphold human rights values and obligations in such an environment.
Listen to Musa's experience from Afghanistan
A portrait of the human rights commission in Nepal
To set the stage, this video was shared with the participants prior to the workshop: a short documentary about the work of the human rights commission in Nepal. To view this video in other languages, choose from this YouTube playlist. POUR LA VERSION FRANCAISE, CLICKEZ ICI!
Quotes from the day
We conclude the topic with inspiring quotes from the day:
"Our human rights institution may be perceived as toothless but it is not worthless: It is important for keeping values and raising awareness on rights in challenging times."
-/-
"People believe in our institution because our message is very simple: Everyone should be free from want and free from fear. This is very telling and convincing for people who are confronted with threats and abuses every day, and with 40% of the population living below poverty line."
-/-
"The national human rights institution does not have the same role as an activist NGO that focuses on "naming and shaming". You try to be constructive and build State capacities, and at the same time you ask State authorities to comply with human rights standards."
Election management bodies (EMBs)
What is an EMB?
Electoral Management and Justice Bodies (EMB) are key pillars of democratic societies. The main purpose of elections is to provide credibility and legitimacy to power holders and officials. But as Sead Alihodzic from International IDEA stressed, elections can go wrong, easily and frequently. And if a country does not have stable institutions this may lead to serious problems.
EMBs usually have the following core tasks: Determining who is eligible to vote Registration of parties and candidates Conducting polling Counting the votes Tabulating the votes Running a credible organization
Additional tasks may include: Voter registration Delimitation of election boundaries (a very political issue!) Voter education and information Media monitoring Electoral dispute resolution
What is the role of the donors?
For donors it is most important to take a holistic look at the electoral cycle (not only at the election phase itself). Sead stresses the importance of institutional capacity strengthening of EMBs. They should be capable to manage risks, ensure sustainability of EMB structures, evaluate results and share them - with a view to learn from their experience.
Watch Sead Alihodzic inspiring presentation on EMBs
How to keep your impartiality?
And now a concrete example! Me Barthélémy Kéré, former chair of the Independent Commission on national elections (CENI) of Burkina Faso, shares his experience. As a principle, CENI always invites political parties and civil society to observe its work, with a view to ensure transparency, quality and credibility of the process. An international audit also ensures that international standards of voter registration are met. During the past elections, CENI's strategy to keep impartiality and gain credibility was to strictly follow its own rules, with no room for favoritism. Consultations were always made, and CENI took decisions based on the synthesized positions of parties, weighted according to political power. In general, consultations and open communication with stakeholders have been key for the credibility of the CENI and the effectiveness of its work. The main challenge in terms of the past presidential election was to compile and communicate the election results the day after election. Withholding the results for too long, leads to a deterioration of credibility.
Listen to Maître Barthélémy Kere talking about his experience (Video in French)
Quotes from day 3
Get inspired with a few quotes from the day:
"The risk of not taking risks can be too high."
-/-
"Elections are not isolated events but part of a cycle: after elections is before the next elections. This gives donors a variety of entry points to support the process in the long run."
-/-
"The election commission is an important go-between between the party in power and the political opposition. It plays a connecting or even facilitating role between political opponents, and between the State and civil society."
-/-
"Elections can be perfectly managed, and participation may be high. But if there is no real competition among candidates, they just miss the point. They even delegitimize the State, instead of strengthening its legitimacy."
-/-
"Proactive communication, outreach and transparency is key for success: Electoral management bodies can build trust in the election and make the voters buy in."
What we learned on this journey will help us in our work
We have learned a lot during our learning journey. We have established new personal connections with colleagues and experts working on these topics. How can we use this knowledge in the future? Corinne Huser (DDLGN) and Inanna Göbel-Boesch (CHR) synthesize the three days and draw conclusions for the two networks.
How can donors support independent oversight institutions?
Corinne argued for a considered support from the donors:
We should support partners to navigate and play their role in the system, make them cooperate with other stakeholders. A clear mandate, appropriate resources and procedures are key for the institutions' success.
Donors must respect ownership and independence of these institutions and not interfere. Avoid undermining their credibility.
Acknowledged standards are important for ensuring the institutions' proper functioning and credibility. These standards can help donors to assess the current status of an institution and serve as a reference frame for our support and the policy dialogue with governments.
We should be fair and asses the performance of institutions according to their mandate – taking our own expectations and results framework as a reference. Let's be modest, and adapt to the context, if we decide to engage.
Take a systemic view
In terms of results and measuring progress and impact of the work of national oversight institutions Inanna stresses the importance of being modest and consider small steps and changes in attitude as relevant results. We have to keep in mind that these institutions are part of a system – and if the system is dysfunctional, we can't fix it through oversight only. But we can expect them to identify and analyze issues and concerns, find evidence, and provide orientation for the way forward. After all, oversight ensures key values of democracy, legitimacy of the state, and good governance.
Listen to Corinne and Innana's closing remarks
What journey?
The learning retreat is not only a moment to pile-up new knowledge. It is also a moment to reflect on on our everyday work process. What does it take to be better at what we do? For this we take you on a learning journey asking you 4 questions to reflect upon during the period of the workshop.
What has each of us learnt?
We have collected all your replies. We hope the list will help you to remember. Have you managed to integrate your learning in your everyday work? You can scroll down right to the last question to find your answer to "What are the concrete little steps to expand your way of working?"
Because of my office & personal interest of engaging/working with independent institutions in my country
Apprendre de l'expérience des collègues dans le support des institutions anti-corruption
Partager l'expérience vécue lors des élections au Burkina Faso ; Savoir ce qui se passe et comment ça se passe ailleurs ; Identifier ce qui pourrait servir pour améliorer les acquis, diminuer les limites
I've had in the past a very good experience with ddlgn and I thought « good space to stop working and start thinking » for a while !; I know a little about oversight institutions but I feel the need to make use of them in my job
Share, learn, network & apply
To learn & be inspired from practitioners & experts on oversight-institutions ® challenges & opportunities in the field; To challenge my own ideas & understanding
I did respond to this workshop invitation in order to have a better understanding of the topics discussed. Moreover, to be able to have direct communication with other actors in these fields and hopefully brainstorm together to be "more" efficient
Share experience from Serbia (State Audit institution); Listen to state of the art in accountability; Possibly apply good practices in serbians program and reg. gov. seminar
Confident with the organization staff; Give to exchange and good practices and experience; As a big traveler I didn't know Bern yet!
I started a new position as governance Advisor at HELVETAS and I was advised (told) to come by my new boss J; But I trained as a lawyer in the UK and worked with some Independent State Institutions and would like to get more of a global perspective
When I seen, there I will have an opportunity to meet with "Overnight Institution" I decide to join
Opportunity to learn/exchange about a specific topics, core of my current position; Opportunity to know SDC/ and of SDC people with common interests but different experiences (field experience)
I was invited to present some insights on anti-corruption institutions/agencies from my PhD research; I think this is a great opportunity to share my research and to get valuable feedback; Further, I'm very interested in meeting knowledgeable people
Topics are highly relevant for my current job; And have been important in my previous position – so, a general and a very specific interest
To better facilitate the learning in networks
Want to grant the other organizations/countries functions and best practice; To learn new things, experiences
Share experience and find new approaches; Enlarge network on independent national overnight institutions; Conflict – corruption – human rights
Curiosity; To grasp a sense of what I should know
To learn from others and share my experience; To explore the possibilities and options other had to make their world a better place
I am co-organizing the event
I see a chance to get to know new aspects of oversight
To deepen the reflection on accountability systems and learn about how typical challenges be overcome in different countries
Excited to speak to practitioners about ACCs – not much opportunity during last couple of years (more general interest on justice sector)
… the topics is interesting & relevant to my …; I expect to exchange to other experts and get views so reflect…
I was selected by my colleagues for anti-corruption workshop. We are working for anticorruption in my country
I am working on the subject of independent commissions therefore it should be interesting for me; Discover experience and expertise from elsewhere, to bring home
To learn more about oversight institutions and about success histories in other context/country
To better understand oversight institutions; what works & how in terms of addressing discrimination
To better understand through and with others, how SDC can interact and/or support independent oversight institutions
To share experiences from other countries and other institutions; to know and improve practices
Share my home country experience; know more about what SDC in Burkina Faso can do better on differently on support to these institutions
Because the workshop topics are very important for the development of my portofolio (Pool Governance) and especially for the preparations of my new project on electoral reforms in Macedonia
On behalf of SDC, EU and Germany, our program in Laos is working with the national assembly on oversight (among other topics). We brought a counterpart from the training division of the national assembly's institute on legislative studies with us as a multiplier of the learning retreat and network exchange
Great opportunity for me to learn from network – and other people; Can get some answers and advices from experienced people on issues that I am facing
Coming from a democratizing country context where institution-building is a struggle, I wished to gain a more academic, technical understanding of oversight institutions. Also to gain comparative insights through networking.
I think the topics is interesting & relevant to my xxxx. I expect to exchange to other expats and get views to reflect better management of due xxx and get a heavy view of vision
Need more money and more resources
Limitation: Lack of resources (technical, financial); Low implementation of investigations. Opportunities: Anti-corruption commissions are becoming more and more important; Government commitment
Limitations: ACC is now a target of several DP ® Coordinate/identify more relevant domain of cooperation with ACC. Opportunities: ACC is part of accountability sys ® Develop multiactors program
Anti-corruption is so complex issue – we need to understand – learn more about it; Integrate to governance work – and mainstreaming in sectoral program; Support more information and capacity building of CSG to do its work
Opportunities: Lots of donors' interest in good governance so opp for synergy, combined resources; Capitalizing on the evidence for connection b/w legitimacy of a state and strength of oversight institutions (motivations). Limitations: Easy to be perceived as suspicious for support NHRI especially; Heavy politicization of most institutions. Vested interests.
Huge opportunity to build coalition to fight electoral corruption; Wonder whether oversight institutions will be responsive (Election management body & ACA)
Opportunities: Foster alliances to enhance the public debate aroung corruption (engage other partners of ours); Raise good governance in priority sectors of development cooperation by connecting them to the ACC. Limitations: SDC cannot safeguard independence of ACC; supporting ACC is also exposing it to reprisals without having the means to protect them.
Limitations of focusing on single institution; Opportunity to apply holistic approach (multi-level and -dimensions)
Many information about different countries about independent state institutions that are useful for different programs; Difficult to get lessons learnt as we had not many comprehensive case studies
Transparency and accountability political condition. If we have the opportunities; Participation & Monitoring evaluation
Limitations: Human resources, skilled, transparency of procedure and ….; Opportunity: Build up skill, better implementation, fullfuling functions and comprise various organizations, involve relevant agencies
Resources as limitation; risks as limitation, including measures when problem is identified; Anti-corruption as electoral province potential of dialogue
Learned and shared experience; good contributions
Take a systemic approach: there are other ways at contributing to fight against corruption than directly supporting an ACA/Division of labour between donors
La principale limitation que j'avais avant ce jour était une compréhension limitée des organes de lutte contre la corruption. J'ai découvert la possibilité de travailler avec eux moyennant l'adaptation à leur situation, à leur objectifs et leurs défis. J'ai également appris des opportunités d'améliorer mon travail avec la méthodologie participative de la modération interactive entre les animateurs et avec les participants. Enfin le flipchart autoadhésif représente pour moi une nouveauté permettant plus d'efficacité dans les formations.
Limitations : beaucoup d'hésitations pour s'engager avec l'autorité anti-corruption. Opportunités : Il n'existe une démarche pour s'engager/des portes d'entrée
Limitations : operating in an adverse environment (mainly from the executive) ; Opportunites : a national momentum (in Tunisia) on the fight against corruption.
Limitations : context, political will, judiciary. Opportunities : Good practice
Limitations: resource scarcity, MSKS®principles of DoMo Harm®to people/staff etc., results not visible®difficult to follow up; Lesson learned: work/cooperation can be dysmoved
Limitations: Political situation, transparency, accountability, space. Opportunites: CSOs are willing to participate
Limitations: Compréhension globale mais pas toujours "suffisante" pour être efficace et performante. Opportunities : visibilité et existance du sujet (ici CAC), aspect humian relevé
Limitations : systemic understanding/focus on ACC; Opportunities: supporting virtous circle in strengthening gov. in partner countries
Limitations: no thorough understanding of corruption; Opportunities: tackle corruption through good governance
An NHRI is not/should not be an island. Its relationships with other (state and non-state) stakeholders in the "easystem" need to be matured. Friends and champions of the NHRI need to be sought out.
Découverte: les commissions nationales des droits de l'homme marchent bien dans certains pays comme le Népal et l'Afganistan. Elles peuvent donc bien marcher. Ne craignons pas l'influence politique qui peut être un avantage. Il faut actionner les organisations de la société civile pour les influencer avant un changement positif de même que les médias qui s'allieront à des personnalités ayant un leadership.
Big differences between countries
Continous working with CSO on HR ; Make/facilitate ling between the ego and NIHR
SAI; the topic is really interesting; networking; technical knowledge cooperation
On how NHRC works
Insights: NHRI functions, importance; Needs: Better understand how CSO, judiciary NHRI can work together to improve the right of minorities & discriminated groups
Les instances de DH sont des acteurs importants de la promotion/protection des DM même dans les pays démocratiques; Plus de moyens et de bonne volonté pour booster le travail de ces instances
SAI & NHRI : both are great institutions to be able to work with – and publics ; Need : blow to apply and support SAI-NIRI to be more independent org.
Donors, DPs and CSOs, performing and networking; more capacity building in relevant areas and for human resource development
New knowledge; SDC should learn from critical point of vue; Inspiration from Afghanistan: vision, commitments, restriction
Understanding on engaging with indep. Governments bodies HR & oversight; Engage more with civil society
Potential of impact on independent institutions in fragile/conflict environment; Continuous learning process / peer support beyond this learning event; favorable/supportive environment (constituency building, etc.)
Cooperation, technical support, practices and good result or research
Insights: principles and criteria of well-functioning NHRIs; types of SAIs and performance management framework
La volonté et la persévérance gagne toujours; une meilleure prise en charge en terme de moyens
Insights : Structures of supreme audit commission (parliamentary + judicial) as well as mechanism to evaluate them ; Progress: National Human Rights Institutions – how their mandate relates to the wider human rights structure and other institutions
Assess opportunity to support internal state central institutions as part of economic governance program?; Get more info about recent action of NHRI
Insights: Definitions, Human rights formal/on system institution; Progress: Decentralized nature or acting at local level of such institutions
When working on other governance program, it would be useful to have an understanding of how such oversight institutions relate to their projects mainstreaming/background understanding; Wider thematic approval to corruption and now oversight institutions such as "Anti-corruption commissions" fit with this debate
New info/ideas; Expanded network; Inspiration of what others are doing
Research about Switzerland situation (ACC/HR Commission, etc.); Connection/participation with both networks; Connection other ways (Ressource persons); Follow up of cases discussed in Pear coaching exercise as much as possible (Pakistan, Cambodia, etc.)
Keep sharing experiences with my collegues and partners; Stay informed and keep "learning" in order to be more efficient and aware of the different institutions work and projects (also supported by Switzerland-SDC, etc.)
Consider independent institutions & their nature in my daily working especially on strengthening democracy (local one); Accountability relay on compliance between institutions (formal + informal) which enable it and the problems society faces (context); principles remain the same, but it's not "one fits all"
Help strengthen enforcement & electoral laws; Dialogue between parties + forge a collective efforts in making politics – responsibility – dirty working through or using the services of oversight bodies such as EMB and ACC
Facilitate working relationship strengthening of parliament ("ongoing cooperation) and state audit institution on budget oversight; Consider the resources introduced by Marie-Louise/Danish institute on human rights for ongoing cooperation on human rights (that is not through a NHRI); Continue exchange with SDC-supported parliamentary institute in neighbouring country; Consider cooperation with parliamentary cooperation service in Switzerland
Link more social inclusion with the HR, working with NHRI?; "Democracy is the most effective way of dealing with diversity", oversight institutions are central to ensure functioning democratic systems; Political empowerment
I integrate some of Nadia's knowledge in my unity exchange and try to get at least one "story" for every technical exchange.
To reach out and use all accountability institutions for Promotion and Protection at human rights; Bring the accountability review mechanism to the world of our partner. Frame new program with accountability; More engagement; More use of the network
I will bring the learning things to my work and share with my collegues; I will apply it what I learn from wls content and also facilitation and communication; I will share the information with my MP
The methodology of the event; Coordinating and networking; Improving knowledge of all rised issues in the event
Rules of the UN in some certain aspects (SDC support); Keep contact with the network; Strategic partners for the improvement of the EMBs
Démarrer de manière plus approfondie les échanges avec l'autorité anti-corruption au Bénin ; Voir avec les partenaires DDC les pas en vue d'un partenariat avec le Parlement ; Echanger avec les collègues du Burkina et la Tunisie sur comment on capitalise sur l'appui élection
Engage more regularly with colleagues on thematic issues
First of all: Improve language skills by working on fluency of English, mainly speaking ; Chercher à mieux découvrir les domains d'intervention de la cooperation Suisse ainsi que de ses partenaires de par le monde ; Identifier les projets porteurs en termes de promotion des institutions de bonne gouvernance susceptibles d'être soumis à la coopération
Vocalize ideas to colleagues as well as diverse experienced professionals in relevant organizations to get constructive feedback as well as further ideas
New civil society program; Keep in touch with network members; Prepare for the reg. governance envent ® anti-corruption
Methods and system (panel discussion); Cooperation, participation and sharing; Knowledge, ideas and practices
SAI: can be applied to our country program, especially to include in support to NA; NHRI: experiences from countries can help to continue working with national HR committee and stakeholders + particularly on UPR process; Improved election process in Laos ® although still challenge in LAO content
Elections: catching up lessons tirées des dernières élections ; Comment xxxxx au cycle électoral avant le rush de la période proprement dit ?